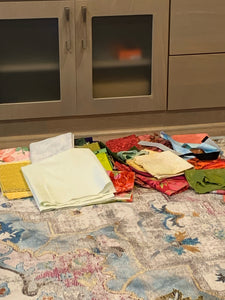 New Year Fresh Start
Hi out there! Do you wonder where I've been?  Life intervened and brought me to a place where I needed to step back from full-time designing.  I'm officially back now with a new enthusiasm for sharing and with a new partner to expand the vision and scope of the website.
There has never been a more fulfilling time to be in the business of creating.   Fabric and fiber arts have always had a huge following.  Now, a new generation is drawn to this art form as a way of disconnecting from our digitized world and enjoying the tactile pleasure of hand-made art.
I'll be teaching 6 classes in Paducah, KY in April 2022, and couldn't be more excited to reconnect with so many of you.  Go to the AQS website to see the selection of classes I'll be teaching and then sign up there.  There are limits to class sizes, so sign up soon so you won't be disappointed.  If you miss taking my classes in Paducah, don't worry, I have you covered!  Kits and online tutorials are coming soon on our new website.
I hope to have the new website up and running after the announcement in my classes at AQS.  Those enrolled in my classes will be the first to know the details, but if all goes to plan, you can continue to connect through this site as it will automatically reroute you to the new one.  Fingers crossed! 
 I have always found joy in helping quilters and budding fiber artists pursue their own creative vision.   Stay tuned for a more expansive vision, and in the meantime, tune in right here for the latest in collage, thread sketching, fabric painting, and combined-art quilting techniques. 
Love,
Trish
---