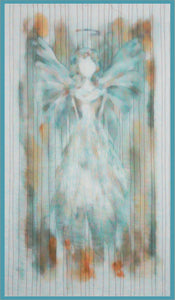 Happy New Year! I'm Back!!
Happy New Year!
If you have looked at my blog you will see it has been at least a year since I wrote anything.  I want to let you know that I am back in action and will be posting on a regular basis.  I'm sure this has happened to everyone out there... You have one thing happen and think, I will do that soon... and that turns into days, weeks, months and now a YEAR!  
The good news is I am back and I will be posting tips on how to do things.  Of course what I am working on right now is creating fabric panels, painting on fabric, doing hand embroidery with specialty threads, and digitizing the designs so if this is what you are interested in as well please stay tuned.  
I've been working with Beth Campbell.  She is an extraordinary artist, with a style that has inspired me into creating these panels with her.  We have a series of angels we are going to print on fabric.  I'm featuring them as I get them ready.  They are presented in my Facebook page: www.facebook.com/artfulquilter. 
These can be hung on the wall or used in a quilt. They are rectangular, most are about 18" wide x 32-33" long.
My Blue Angel is the only oddball, that doesn't really work with the other angels, she's so blurry.  She is probably my favorite which explains why I quilted her first.  I think there are a lot of ways this could be quilted to create an amazing piece of art. Using shimmery threads, adding feathers in the wings, making the background a different pattern, such as diamonds. 
Because My Blue Angel is the first in the series, I am taking pre-orders for her and people who place their order by January 10 will get a discount code as a gift for being quick and supportive.  It takes time to get these printed so once you place your order for her expect at least a 2-3 week delay to receive it.  
If you have any questions I will be checking daily to make certain you get a response.  Thanks for your patience and here's to a wonderful, creative and fun New Year! 2020!! Can you believe it? 
---
1 comment